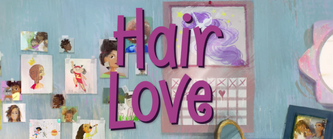 Hair Love is a short film created by Matthew A. Cherry and Bruce W. Smith that preceded the North American release of The Angry Birds Movie 2 and also shown before Jumanji: The Next Level.
The film tells the story of seven-year-old Zuri who is attempting to style her own hair for the first time, following directions in an instructional video her mother recorded. When she has difficulty getting her thick, kinky hair under control, her father, Stephan, steps forward to help, and together they succeed.
Later that day, they visit Zuri's mother in the hospital. Her mother removes the scarf she was wearing on her head, revealing she's now bald from chemotherapy. After a hug together, the family returns home.
TV series
On July 7, 2020, HBO Max announced they had ordered a 12-episode animated series based on the film, to be called Young Love. Matthew Cherry returned to create the series and will serve as showrunner with animator Carl Jones, who has worked on The Boondocks and Black Dynamite.
A premiere date has not yet been announced, though Sony Animation appears to the animation company for the series.[1]
References
Community content is available under
CC-BY-SA
unless otherwise noted.