ABOUT SONY PICTURES ANIMATION
Sony Pictures Animation–
was established in May 2002 in order to enable Sony Pictures Entertainment to tap into CGI movie scenes and to develop characters, stories, and movies that are best realized through digital production. Its first full feature film was Open Season; it was released in September 2006 and it became the studios #2 home entertainment film in 2007. Its second movie was Surf's Up; it was released in June 2007 and it was nominated for a Best Animated Feature Academy Award and it won two Annie Awards.
FEATURED ARTICLE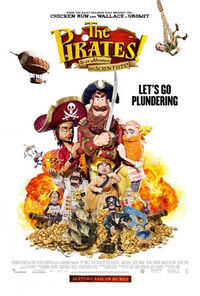 The Pirates! Band of Misfits–
The Pirates! Band of Misfits (or The Pirates! In an Adventure with Scientists in the UK) is a 2012 3D stop-motion animated comedy film, produced by Aardman Animations and Sony Pictures Animation. Peter Lord directs, and mong the featured voices are those of Hugh Grant, Salma Hayek, Jeremy Piven, Imelda Staunton, and David Tennant.
Based on the combined stories of the first two books from Gideon Defoe's The Pirates! series: The Pirates! in an Adventure with Scientists and The Pirates! in an Adventure with Whaling.
It is Aardman Animations' first stop-motion clay animated feature to be released in Digital 3D and their first stop-motion film since Wallace & Gromit: The Curse of the Were-Rabbit.
USER BLOGS

Refresh

Smv21
•
Goosebumps
Goosebumps 2
The Smurfs
Peter Rabbit 2
The Smurfs 2
Peter Rabbit
So people are still confused on aarons age and sense i cant reply to anyones comments on the wiki about him I decided to make this. So he is 12 i just found out or eleven 12 or eleven and his birthday would probably be june: 22 2009. Also a lot of people are saying nine too. But before we get into …
Personally i think his zodiac sign is cancer, they are very calm with family and like being near them but are very shy to people in real life also i heard they hide there feelings towards a crush and act like they never had one. Thats exactly like him. If he doesnt have that zodiac i would be surpr…
See more >
CONTRIBUTING
We're currently housing
912
articles, and
2,828
files.
We need YOUR help expanding and adding articles to the wiki!
---
---
If you're new to Wikia, please use the above links to get started. If you already have editing experience and you have an article relating to a Sony Pictures Animation movie to contribute, use the box below to create it:
Thank you!