Zeke Topanga
Background information
Feature films
Surf's Up
Surf's Up 2: WaveMania (flashback)
Short films
Television programs
Video games
Surf's Up
Portrayed by
Portrayed by
Animators
Voice
Jeff Bridges
Designer
Inspiration
Honors and awards
Character information
Full name
Zeke Topanga
Other names
Big Z
Geek
Personality
Sagacious, gallant, thrilled, fair, geeky, fatherly, kind, goofy
Appearance
Overweight penguin with dreads, brown eyes
Occupation
Surfer (formerly)
Alignment
Good
Affiliations
Nationality
Birthday
Goal
To teach Cody to surf (succeeded)
Home
Pen Gu Island
Relatives
Lani Aliikai (niece)
Pets
Allies
Cody Maverick, Chicken Joe, Lani Aliikai, Tank Evans (formerly), Reggie Belafonte (formerly)
Minions
Tank Evans (formerly)
Enemies
Tank Evans, Reggie Belafonte
Likes
Making surf boards, music, his fans, jokes, taking naps
Dislikes
Tank Evans, Reggie, failure, impudence
Powers and abilities
Surf skills
Paraphernalia
Weapons
Fate
He invites the penguins to surf and joined Cody
Quote
Back in that day, winning was everything to me, and I knew I was gonna beat Tank. But then he starts surfing circles around me. I saw what he was doing. Times change. Well, I didn't want to go back to that beach, in front of all my fans, thinking "Look at Big Z, the loser, the has-been." So... poof! Big Z's dead. And he's gonna stay that way.
[Source]
Zeke Geek Topanga is one of the protagonists of the movie Surf's Up.
Appearance
Personality
Biography
Early Life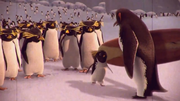 Big Z was originally a famous surfer who one time visited Shiverpool in Antartica and met a young penguin named Cody Maverick a gave him his necklace.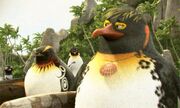 Sometime after this, he competed in a surfing contest with another surfer named  Tank "The Shredder" Evans, who wiped him out. Realizing that he couldn't compete with Tank and was tired, Z faked a disappearance and became a recluse named Geek. After this a surfing contest called The Big Z Memorial Surf Off was started which was once by Tank nine times.
Surf's Up
Ten years after his disappearance, "Geek"'s niece Lani came to him with a now 17-year-old Cody, who had got hurt during a surf off against Tank. After healing Cody, "Geek" teaches him how to make a perfect surfboard. Later Cody and "Geek" discover a shack full of old trophies and surfboards which Cody sees as Z's, before discovering that "Geek" is Z. Cody asks Z to teach him to surf (as he wishes to the part in surf off), which Z reluctantly agrees.
After the training, Cody asks Z to come and watch the surf off, but Z refuses and reveals that he faked his disappearance. Upset that Z just gave up, Cody leaves to take part in the surf off. Z secretly watches the contest and later helps Cody get back to the beach after he wipes out. They learn that Chicken Joe won by default after Cody and Tank got disqualified, but Cody doesn't care about winning and decides to have fun instead. Z reveals himself to the audience and invites them to surf and is joined by Cody and Joe.
Gallery
Trivia
For reasons unknown, Z is not seen or mentioned in the film's 2017 sequel Surf's Up 2: Wavemania.
Community content is available under
CC-BY-SA
unless otherwise noted.